Dana Dolly
| | |
| --- | --- |
| Dana Dolly Slider | $100.00 |
| Portable Track Kit - 3, 6, & 9 ft. | $30.00 |
| 12 in. Camera Riser | $15.00 |
| Pair of Speedrail - 6 ft. | $6.00 |
| Track Center Support | $5.00 |
| Anti-Tip Brackets (Pair) | $5.00 |
Doorway Dolly
| | |
| --- | --- |
| Doorway Dolly | $75.00 |
| Set of 4 Hot Buttons | $25.00 |
| Straight Track - 10 ft. | $15.00 |
| Starter Track | $6.00 |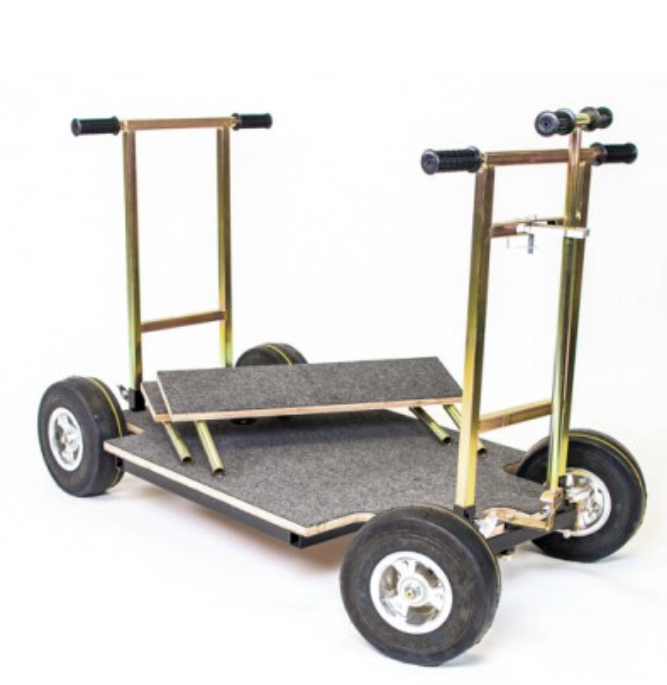 Manual Jib
| | |
| --- | --- |
| EZ FX Jib, Tripod, Wheeled Base - 4 ft. Reach | $150.00 |
Just add a 100mm tripod head to complete the jib.
Jimmy Jib
Our Jimmy Jib Triangle Pro can be built up to 30 ft

Lens Height: 35 ft (30 ft reach) to 13 ft (6 ft reach)
Alternate Arm Sizes: 6 / 9 / 12 / 15 / 18 / 21 / 24 ft
Remote pan and Tilt Head
Tangle-free 600 deg. camera moves
Two axis lens control for cinema lenses
Max. Camera Weight: 50 lb. (at any length)
AC or DC operation (runs 10 hours on battery)
Jimmy Jib packages are built to order and include the Triangle Pro remote head system for remote pan and tilt, focus, iris or zoom control for broadcast or film lenses, off road wheel base, video cables, counterweights and a HD monitor for the jib operator.
Available additionally: camera packages, additional monitors, wireless video transmission, wireless focus system and camera run/stop system and additional crew.
**Jimmy Jib packages are offered only as a fully package operated by Shutterworks personnel. Please contact us for pricing.
---
All prices are per item, per day and subject to change. Sales tax applies in addition to all listed rental rates.