Shutterworks Rentals Spokane is proud to offer a spacious rental studio for the video and photography needs of Spokane.
The studio is a free-standing wood-built structure with fiber glass insulation. Our rental studio is located on the ground floor with a several entrances and a private bathroom. The studio has its own heating and air conditioning systems which you can control. The studio has its own separate 400 amp electrical service. No one else will pop a breaker in the middle of your shoot or while you are recording. Two 220v outlets plus an additional twelve 120v outlets line the walls of the studio. Outlets are located every 4 to 6 feet for easy cabling. Four of those 120v outlets are on a separate dedicated 20 amp circuit.
We contracted an acoustic consultant to optimize sound propagation and permeation within the space. Floor-to-ceiling sound curtains line walls and ceiling to minimize flutter and reverb. Further treatment was accomplished with strategically placed acoustic foam panels. With no major roads nearby, nor anyone working in the immediate vicinity, you can fully control the sound environment.
An enormous 12 x 18 foot roll up door opens to reveals the entire studio. You can pull right up to the door to load in. Our large drive-through lot easily accompanies commercial vehicles and other large vehicles. Parking is free for all vehicles on our private secured lot. The studio has a smooth concrete floor with a drain.
Rent the studio in hourly blocks or by the day, using your equipment or renting ours. Optionally elect to stock the studio with light stands, C-stands, apple boxes, sand bags, flags, nets, scrims and more at a highly discounted package rate. Additional options include green screen chroma-key and still photography studio strobes by Profoto.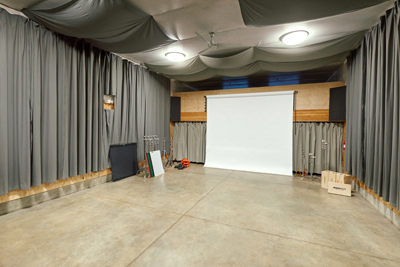 Features
Overall Size: Approx 900 square ft
Measurements: 24 x 36 ft. with a 14 ft ceiling
Doors: 3x7 ft Man-door, 12x18 ft Roll Up
Electric Service: 400 Amp Single Phase
220v Outlets: 50 Amp 4 wire, 30 Amp 4 wire
120v Outlets: 4 Dedicated 20 amp, 8 Additional
Backdrops: 12' White Seamless Paper, 3 Possible
Includes: 2 Folding Tables, 4 Chairs
Location
Located 7 Minutes from I-90
15 Minutes from Downtown
20 Minutes from GEG Airport
Private Secure 20,000 sq. ft. Lot
Grip Package:
Stands
Flags & Scrims
2 - 18x24 Solid

1 - 18x24 Full Silk

1 - 18x24 Qtr Silk

1 - 18x24 Single Net

1 - 18x24 Double Net

2 - 24x36 Solid

1 - 24x36 Full Silk

1 - 24x36 Qtr Silk

1 - 24x36 Single Net

1 - 24x36 Double Net

2 - 4x4 Half Silent Grid

2 - 4x4 Solid
Apple Boxes
2 - Full Apple Box

2 - Half Apple Box

2 - Qtr. Apple Box

2 - Pancake
Ladders
1 - Step Ladder 2 ft.

1 - Ladder 4 ft.
Misc. Grip
8 - 15 lb. Sandbag

1 - 4x4 Beadboard

1 - 2x4 Beadboard

2 - Mafer with Pin

2 - Duck Bill

6 - Pony Clamp #2
Electric
4 - 25 ft. Stinger

2 - Cube Tap